Estes Park Tahosa Valley Verbenone and Pine Beetle Information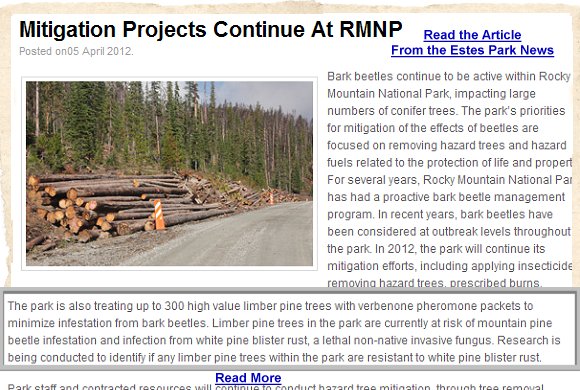 Status of Beetle Flight 2019
This area experienced a warmer and wetter Spring in 2019 compared to 2018. If that is the case in the 2020 season, warmer means that you may have to put your Verbenone pouches out a week or two earlier than last year. Mid June is probably a good target for altitudes of 8,000+ ft. Wetter is good news (not only for fires). Trees with adequate water can fight the beetle attacks better because they can loose more sticky sap to trap the female beetles before they bore into the tree.
Cutting/Removal of Pine Beetle Infested Trees
Call Reed Logging & Tree Service. Very honest and reliable. Chris Reed can save you money because of his fast logging, bucking, and removal techniques.
Call: 970-584-9772
Disposal of Pine Beetle Infested Trees and Logs
Air Curtain Burners turn pine beetle infested trees into ash: Estes Park has installed an air curtain burner located at 666 Elm Road. As of Aug 1, 2008, the burner accepts only infested trees from 8:00 a.m to 4:00 p.m. Mon-Friday. They are accepting trees from all citizens of the Estes Valley, not just citizens of Estes Park proper.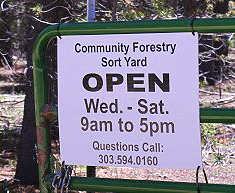 The burner turns tons and tons of material into ash that the city will utilize to mix with salt for winter ice-melting (reduces the salt necessary for that job and turns our misfortunes into a recyclable benefit).
A drop-off/forest pick-up station is also chipping "hot" wood at 8107 Hwy 70 (near the HbarH ranch on Hwy 7 South of Estes.) The chips are used for bio-fuel for Boulder. 2019 schedule is 9am to 5pm Wed through Saturday.
The drop-off area is surrounded by pine beeltle traps, which the attendants and forest personnel check regularly to see when the pine and ips beetles begin to fly. You can stop by the drop-off location and talk to the attendants to find out of they have trapped any to date.
Read more about it here
Forest Mitigation/ Preventative Thinning of Trees
Call Reed Logging & Tree Service. Very honest and reliable. Chris Reed can save you money because of his fast logging, bucking, and removal techniques.
Call: 970-584-9772
2019: New Mexico and Montana engaged in a furious battle with THE BEETLE!
Pine beetles are making their presence known in these two states in a big way this year. Both states experienced a huge uptick in infestation starting last year that continues through this season.
Montana added Missoula, Kalispell, and Billings to the list of hard-hit areas. And the beetles continue to move.
Five years ago, Montana was caught off guard and the flight season lasted longer than anticipated. Most protection ran out before the beetles quit flying. That added to the areas that became infested.
The worst news about New Mexico and Colorado is that the Mountain Pine Beetle is being followed fast by Doublas-Fir and Spruce beetles who are feasting and breeding in the previously-killed trees and starting an outbreak of their own.
Colorado has seemed quieter this 2019 season due to better winter snow pack that has helped the drought conditions. Also many of the susceptible trees are already dead - particularly on the Western Slope of the Rockies. However, the foothills and lower western areas of the state are now being plagued by Doublas-fir and Spruce beetle epidemics. Widespread groupings of tree mortality from Douglas-Fir beetles occurred in 2018, in portions of the northern Sawatch Range near the community of Carbondale; northern areas of the La Garita Mountains, south of the community of Gunnison; the Needle Mountains near Lake City; and the San Miguel River drainage around the community of Telluride in the San Juan Mountains. Douglas-Fir and Spruce beetles need a different pheromone packet. MCH Beetle Repellent is needed for them.
To keep poisons to a minimum, it is necessary for you to continue to stand guard against the beetles so that cities and towns can feel secure enough to treat with fewer toxic chemicals.
2018: California! Mariposa, CA is a battleground. Large Ponderosas are particularly hard hit.